Paceño writer Jaime Sáenz aptly referred to the Choqueyapu River, which runs through La Paz, as 'the city in liquid state.' Trash, dead animals, organic and chemical waste, rubble, heavy metals: the detritus of the city is unrelentlessly churning through the waters of the Choqueyapu. The contaminated water carries bacteria such as E. coli and salmonella which end up in vegetable crops downstream. But until the river is stopped being used as an open sewer, an alternative for this wasted water is to use it to produce flowers, like the florerías do in the Valle de las Flores, in the south of La Paz, transforming something vile into something beautiful.
We began 2018 with our chaos-themed issue, and how when something seems confusing and chaotic, there can be an order behind it that controls it. Similarly, we are ending the year by deconstructing what is around us in order to understand it better. Bolivia is a land of contradictions – a place where spirituality and capitalism have created a unique setting, where the modern teleférico and old micros coexist, and where all the seasons seem to take place within a day. Inexplicably, it's also a country with a capital city that doesn't have a proper sewer and water-treatment system.
There are things that we see every day but take for granted because they are part of our routine, and because sometimes we are just too shy to ask. Why is helado de canela red (and why doesn't it ever seem to melt)? Why are there so many dentists in La Paz and El Alto? Why do you never (or very rarely) see a cholita wearing glasses? And why do you never see a cholita without braids? And what is the actual spelling: Abaroa or Avaroa?!
We've tried to answer questions like these for the past nine years – in all 90 issues of Bolivian Express. Month after month, we deconstruct the ordinary and make sense out of this apparent chaos. We've been deciphering Bolivia's secrets and its people, looking at what connects us and at all the nuances which define Bolivia and every part of it: the highlands, the rainforests, the Chaco and the foothills.
Ultimately, one of the things that characterises Bolivians is their perseverance and determination. Their unwillingness to stop fighting and to keep living in the harshest conditions – from the palliris in the mines of Potosí to the women selling cheese in the street whether it's pouring rain or burning hot under the sun. Understanding Bolivia is an ambitious and arduous task, a testament to its richness, beauty and complexity.
Deconstructing Stuff
20 Jan, 2019 | Caroline Risacher
Photos: Wikimedia CommonsAlmost everything you want to know explainedLlajuaAn important part of any Bolivian meal, this hot sauce is made out of tomato, locoto – a local and very strong red chill...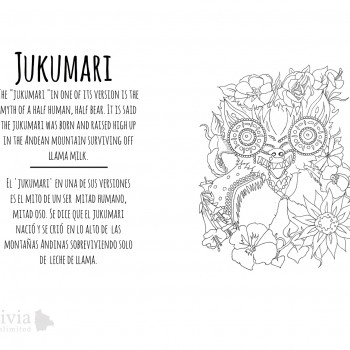 Jukumari / Tipoy
20 Jan, 2019 | BX Crew
Charlene Eckels
20 Jan, 2019 | BX Crew
Image: Courtesy of Charlene EckelsArtist Bio:Bolivian-American Charlene Eckels was born and raised in North Carolina. She has a bachelor's degree in studio art from the University of North Caroli...
The Art of Making a Difference
20 Jan, 2019 | Autumn Spredemann
Photos: Autumn SpredemannGallery owners Fredy and Jonathan Hofmann set the stage for Bolivian artistsThe doors of Arte y Cultura Galería are open seven days a week, catching the eye of all who wa...
A Mountain Creamery Comes of Age
20 Jan, 2019 | Caroline Risacher
Photo: Courtesy of flor de lecheThe cheese is sublime – but that's just one part of the storyFlor de Leche is known in La Paz for its high quality, locally produced cheeses and yoghurts. Back in 1998,...